About The Author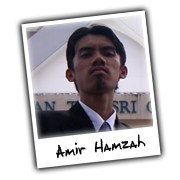 My name is Amir Hamzah Muhidi. I was born on February 16th of 1983 at Hospital Besar Sultanah Aminah Johor Bahru. Some would know me by the name "overlord_666" and it's my nickname for most forums, social network or any other type of internet activity that require a nickname to participate. I receive my first education at a kindergarten known as Tadika Sukaria at Skudai, Johor Bahru. I'm kind of proud to study there because most of the time the teachers and pupils communicate using Chinese language (not in my native language, Bahasa Malaysia). So, it's also a new experience with me hanging around with my friends that have different believes and cultures.
My primary school was Sekolah Kebangsaan Tmn Tun Aminah (i). The day was almost at its norm; save for a couple days that either I really hate to go to school, making trouble at class, or just playing for the whole day (well, that's normal I supposed…kids~~). Ironically, I got a decent UPSR result and with that, I made up my mind to make some adventure of my own; pursue my secondary level study at a school that situated far from my hometown and become "budak hostel" (hostel residents). My first secondary school was Sekolah Menengah Kebangsaan Agama Segamat (about 180km from my hometown). It's a school that emphasizes more on Islamic teachings without abandoning the normal syllabus. Unfortunately, I only last on that school for 8 months; I then went to Sekolah Menengah Sains Kota Tinggi (SAKTI); supposed to be more prestigious than my first school but it's all the same for me anyway.
After graduating from my secondary school system, I entered the pre-university educational level or locally known as Matriculation. My matriculation college was at Masjid Tanah, Melaka (Kolej Matrikulasi Melaka) and undertaking the physical science courses which consist of subjects like physics, chemistry, and computer science (among others). Although I managed to finish my courses, it doesn't go very well and I ditch (or been ditched
) the physics path and continue my study by entering Universiti Utara Malaysia taking Multimedia course. After 3 years of study and 2 months later with no luck in finding jobs, I decided to pursue my Masters at the same university but with a slight of changes; taking the Information Technology course. And on March 2008 I finally manage to graduate from my Masters study.
About The Blog
Well, in case there are any of you out there that even care why this blog had a title such as "St0rY oF uNpReDiCtAbLe LiFe II",I tell you this; I had no specific reasons on why I choose that title. Nor even I had went through a very hard life, so I choose the title to make it kinda like a dedication to my life. Ha…hell no. The only reason that I could think of is the title kinda catchy and I like everything that's catchy
Hahahaha…uh? You can't accept that? Okay, here is my best shot…story of unpredictable life is suppose to refer to my life story; how and what I dealt with my daily life. I do believe that no matter how linear and predictable some one's life is, actually it's always unpredictable. Something like…it never will go the way you want it to be (most of the time).
At the end of my title there's a number II (roman number for '2') and that indicates that the title had been used before by me at another place. Long story short, before this I had another blog hosted at wordpress.com under the same title without the number 'II' of course. After buying my own doamin and I really love my old title, I decided to reuse it here. Oh…by the way, if you're wondering why there's no "My" (to indicate that it's "my" story of unpredictable life), well I intentionally omit it because of the catchy purpose
So, because life is unpredictable, my blog here doesn't contain a specific theme or category. Although I do intend to stick to as less categories that I can, still I can assure you that my post will vary; you'll find post about local news at a time but later the blog is infested with post about computer technologies (eg). I'm not really into writting, but I keep on writting just to keep check on my life. Yes, I do need the constant check to keep my life tidy and sane. For example, I write something about how to make things work, so next time I can refer it back here *IF* I forgot how to do it again in the future. Hmm…I guess that's one of the good things about blog~~~
To be continue….under construction